Who would have thought that finding a car and bringing it home would make a grown man cry? That is exactly what happened to me… and no I didn't run myself over or anything as stupid as that!
When I was young. Wow I sound like an old man! When I was young I lived and breathed motorcycles and anything speedway related. To be honest not much has changed in regards to motorcycles and speedway. My fuel filled personality has curtailed by the cost of said interest and with the natural demands that comes with becoming a family man. That is not to say I am not happy with my lot! Who wouldn't be! I love my family! However, this past week an offer to good to be true came my way which would ignite my fuel filled passion in a way that it hasn't been in a long time!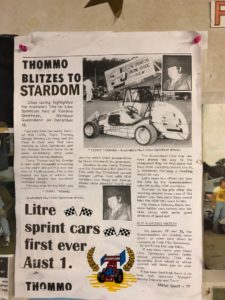 One of my dad's old race cars became available. This is not just any race car. This was a race car built by a late great family friend 'George Winder' and was raced by my dad to win an Australian title in 1982/83. I will never forget that night all those years ago. Standing on the inn field watching dad win. It makes me cry just typing about it. What a baby I am! I vividly recall the sight, the sound and even the smell!
The article on the left was written shortly after the race. I believe for the photo for the article was taken at the first event after the title. It is kind of weird seeing how much my son looks like my dad in the photo! Both have the same side burns… well until last week when I made my son shave them off… the long haired hippie!
So when I got the call saying where 'that' car was and how it was available for me to pick up. I was of mixed feelings. Firstly, I was saddened because it dawned on me how long ago it was. It hurt to know that those days can never be experienced again. But boy was I excited to know that I finally could have something physical to hang onto that reminded me of those days! A thanks to Jimmy Pyne for making the car available!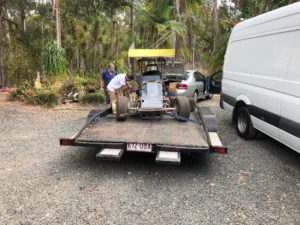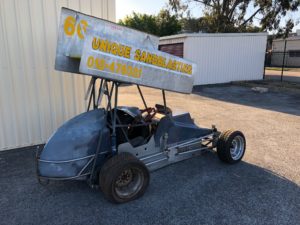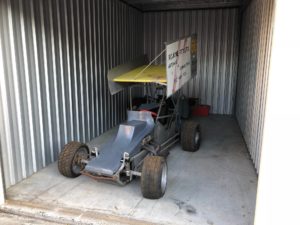 Here it is being loaded on the trailer and finding a new home.
The motor is just about now and will be set to Firth Racing to get it up and running again.
So this morning I was 'checkin out the ol' interwebs' and came across the following photos: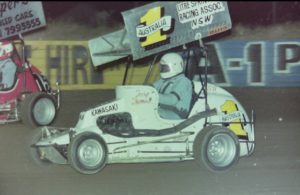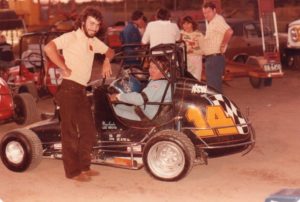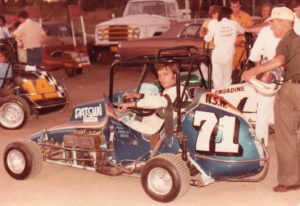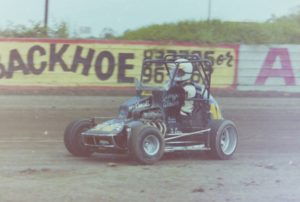 top left is my dad 'Terry Thomas' in that car – top right is 'George Winder' in the car before my Dad got it – bottom left is George again (check out the pit crew names) – bottom right is George again at I think 'Kembla Grange Speedway'.
So why am I writing about this?
I want to keep a report of the car's journey and also to write about my experience. Not because I think someone might find it interesting, but simply because I don't want to ever forget the experiences the car represents for me. You see although the car has reminded me of just how much has changed over the years. I'm not talking about the car itself here, but me personally and even how much our culture has changed. Speedway is not the same for me, it feels as though it has loss part of it's soul. However, the cool thing is despite all the change somethings can still remain. It is exciting to hold something to touch something from the past which brings magic memories! I look forward to the day when it is completed and I can see the look on my mum and dad's face when they see it again just how it was!