I thought now would be a good time for those of you who are interested in an update on the work on restoring 'THE CAR'.
Things have moved along at a good speed… well a good speed for me anyway. The steering box has been fixed. The problem was a broken spline where the steering arm is attached.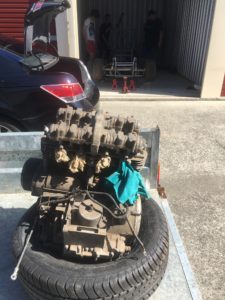 As you can see from this pic the motor is out to be checked over by firthracing and eventually pained and made pretty!
Seriously who would have thought that it would have been so hard to remove that motor from the frame! It was a right royal paint in the behind. As long as it doesn't scratch the pain going back in!
The side panels are of getting some flutes put into them just like it originally had. The rest of the body work needs a bit of work, so if anyone is good in fiberglass repair and wants to lead a hand please let me know. The budget is not big but there is a budget!
The tail shaft protective housing is done which means that chassis paint can now go ahead. The only problem with painting is that the storage shed in which it is located does not allow painting to take place on the premise. So I have to load the car onto a trailer and take it elsewhere. Not having a ute or a trailer or even a car with a towbar is really getting up my nose! I seriously think I am going to have to bite the bullet and save for a ute again.
So that is the car progress. Now let me tell you about the another part of the process that the car has helped in. Those of you who know me well may have figured out that I have have not really been the best person to be around lately. Perhaps it is yet another mid life crisis. Perhaps it is just the fact that I am a little bored with life at the moment. I guess you could say I am a bit annoyed with doing the same thing over and over again. Fixing computers for a living doesn't make you feel like you are changing the world! But! And it is a HUGE BUT! Having my son and a couple of friends over to help remove the motor was awesome! It once again reminded me of how lucky I am. I have a great family and awesome friends! I know I don't say it enough to those people in my life, "you people are awesome', and in the words of a famous aussie boxer 'and amm arr I luv yous all'.
So until next time!