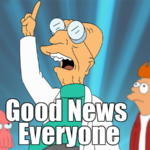 I just finished FATZ 2! That's right baby the FatMan is back along with Bob and the evil beagle Doug. I'm not giving away any secrets except to say the team is expanding in this one… no the Fatman is not getting any fatter! No Bob is not pregnant!
'I'm so excited that I just can't hide it' Oh my I am breaking out into song.
There is still the editing to be done and the artwork. But the first person to share this good news will receive a free copy along with a small gift as soon as it available.